We design custom curtains and soft furnishings to enhance your space. Whether you're looking to complete a room or start a new interior design project, Red Velvet has plenty of options and inspiration.
Curtains are a fun fashion product that can be customized to fit any style. Choose fabric patterns that appeal to you, ranging from sleek and modern to formal and traditional. We have a large selection of vintage and contemporary fabric designs. Red Velvet employs a mix of old and new styles and patterns, as well as an elegant and bold color palette. We provide genuine, raw, and completely artistic products directly from our sellers.
Red Velvet is the largest fabric manufacturer in Dubai offering premium quality fabrics in a variety of colors. As well-known fabric manufacturers in the UAE, we ensure that our products are of high quality and cost-effective. We are a luxury fabric retailer with extensive textile experience and a thorough understanding of modern designs and patterns, allowing us to provide tailored solutions. We specialize in fabrics for fashion, upholstery, quilting, and home decor that will make your home more comfortable and welcoming. Red Velvet has a fantastic selection of fabrics to suit any budget and lifestyle, as well as a strong emphasis on customer satisfaction. You can visit our website to learn about new designs.
Who We Are?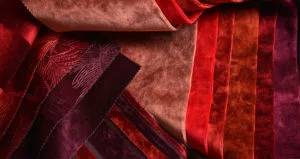 We are the best fabric manufacturers in UAE with a wide selection of classic and modern fabrics for curtains and upholstery. The company does not stop at fabrics; it has also ventured into curtain accessories, all in the name of perfection, elegance, and creativity. As a result of these factors, Red Velvet has expanded its operations to GCC countries such as the UAE, Oman, Bahrain, and Saudi Arabia.
What We Do?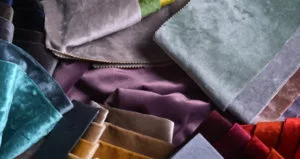 Red Velvet is the largest supplier of upholstery, fashion, quilting, and decorator fabrics for your home. We offer a variety of premium quality fabrics in a variety of colors and textures for both personal and corporate use. We are proud to sell and ship high-quality fabrics and tassels from all over the world.

We strive to provide unrivaled customer service and to present beautiful, high-quality fabrics to fit any lifestyle. With their innovative manufacturing techniques, we inspire exclusive designs, timeless styles, and high-performance fabrics.